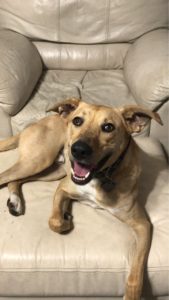 Free for anyone willing to provide a good home for Comet. A 2 year old (November is his birth month) Australian Shepard-Lab Retriever Mix. Weighs 38lbs.
His background: at 6 weeks old he was rescued from Alabama, found under a deck of a house. They believe mom was run over by a car. He went into foster care here in MN at Spots Last Stop Rescue.
He would make a great hunting dog. Loves to run and be outside. He points naturally and fetches for hours! He is shock collar and crate trained. loves car rides, treats & playing with other dogs. He needs some work on leash training still, but does well with commands. He has had obedience training and some 1:1 behavioral training.
Interested parties should contact Elissa at 507.508.0305